Safety products
Carebase supplies  wide choice of  safety products that address the specific needs of individuals with complex needs or safety requirements. This product range is backed by a service that includes professional home assessments where the particular requirements can be worked out, extensive options for customisation and a delivery and service package that is carried out entirely by Carebase trained Service Engineers.
Haven
---
The Haven product is our complete solution to creating a safe environment. Customised to fit any space or room, the Haven is the most flexible solution. Using the Carebase Integra bumper method, walls, floors and any objects can be made safe. The material choice is substantial and includes a specially developed fabric that cannot be chewed or split.
---
Bed bumpers
---
The Lasse is a simple, small cost effective cot that is easily assembled. Lightweight but stable, it offers an entry level cot at an attractive price.
---
Laura
---
The Laura surround is a key part of our "hybrid" cot range. It can be specified to any size to make an existing bed into a safe environment. It can also be bumpered.
---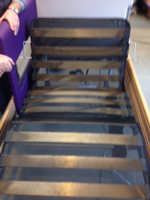 Leon
---
One of the Carebase economy models that can be supplied in different sizes and door heights to make an attractive but cost effective solution.
---
Kangboflex
---
The Kangboflex is a hybrid bed/cot that has the advantage of low entry and the possibility of converting to a bed. This offers the maximum level of flexibility and makes it easy for community stores to have a cot in stock.
---
Kangbo
---
A metal frame cot with perspex windows that gives a modern appearance and style. It is available in 2 different sizes and with 2 different door heights.
---